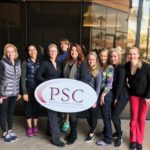 We post a lot about the sheer awesomeness of being a part of Pilates Sports Center, because it's not just a Pilates studio with an owner, or two owners. It's a place where people who care deeply about one another and their clientele get to spend quality time together working, healing, laughing and sometimes crying together. It's a family in the truest sense of the word, (without some of the baggage that actual families sometimes bring).  We come together in one beautiful effort to bring health, wellness and yes, love to one another. No matter what may be going on in life this is a place to come into, smile, exhale deeply and then get into the work. PSC is a special place, filled with teachers, clients, students and ultimately graduates. These amazing students of the Pilates Sports Center method of Teacher Training then go out into the world and bring that expertise to clients in other studios around the country, and so it goes, and the PSC good name grows. We now have 50 Master Teacher Trainer sites across the US, and outside the US. The 2018 Master Training program will train between 5 and 8 new MT's who will learn to teach the PSC methodology of Teacher Training to their respective cities through their own studios. It's a really cool thing to watch the growth, and be a part of it.
The next Pilates Sports Center Teacher Training program will be taught in Encino September 11th and 13th, 2017. Here's a quick video.
If you're industry, or career path has failed to bring a smile to your face, there is something you can do about it. Visit us at: www.PilatesSportsCenter.com and learn more!