Scoliosis Specialty Pilates Programs

Level I required as prerequisite for Level II
Become a Scoliosis Specialized Pilates Instructor
A 2 day / 12-hour expanded program exploring the causes of scoliosis, issues that can exacerbate its curvatures, and ways to attain better function, posture, and pain-free movement. We also cover scoliosis fusions. Learn what to avoid and what to focus on to assist scoliosis clients in reducing pain while increasing functionality. Includes scope of practice, anatomy discussion, practical demonstrations, plus a take home reference-workbook that make this a valuable and applicable workshop. A comprehensive test out earns you a diploma and listing as a scoliosis specialty Pilates teacher.
The Program will include:
• 12+ Hours of Coursework
• Pilates Props, Mat, Reformer, Cadillac and Wunda Chair Repertoire for the Scoliosis client
• Medical anatomical terminology
• Ethics and scope of practice
Registration: DIGITAL for 16 CEC's
Dr. Andromeda Stevens, D.C., Schroth Best Practice Advanced Certified, Pilates Gold Certified
CECs APPROVED FOR DISTANCE LEARNING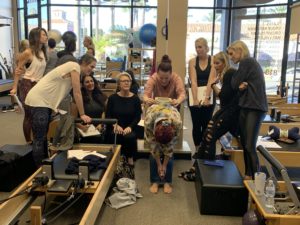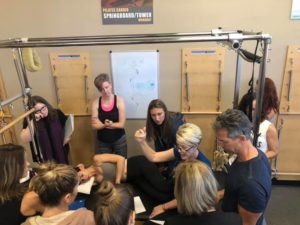 PRE-REQUISITES
Pilates Instructor Diploma from a comprehensive program that includes all apparatus including but not limited to: Mat, Reformer, Cadillac and Wunda Chair OR proof of NPCP
Completed Application / Tuition deposit
Signed Student Contract (day 1 of class)
Personal Liability Insurance
Completion of Level I Worksop LINK
COURSE REQUIREMENTS
Assessment Based Certificate/Diploma issued upon completing all course requirements:
12+ Hours of Coursework
100% attendance
Passing score on written exam
https://scoliosiscoach.com/workshops
"I wanted to tell you that I really enjoyed the workshop, I found it very easy to follow and very informative and helpful. I appreciate your passion and wonderful job helping us understand Scoliosis and sharing your knowledge.
Thank you so much, stay healthy!" ~ Veronica
Thank you so much! I am loving your workshop so far. I took one of your workshops two years ago, and I learned a lot from you. ~ Best wishes, Mariela. 
I loved your workshop, I learned so many useful insights that I really want to enroll in the next level.
Thank you for such a wonderful workshop, looking forward to the next one. ~ M. Carter.
Fantastic workshop! Thank you for your time, energy and generosity in sharing your knowledge and expertise. This weekend workshop has increased my skill and confidence in helping this underserved population and I look forward to putting all that I learned into practice! ~ Vanessa
I loved your workshop/Vimeo videos and learned so much ~ Suzanne