8 Skills You'll Learn with Our Pilates Teacher Training
Thursday, Feb. 19th, 2015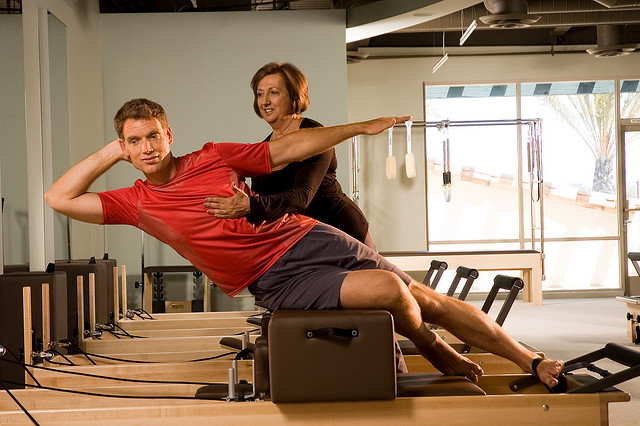 The PSC Pilates Teacher Training Program is a comprehensive program dedicated to preparing students to become certified Pilates Method AllianceTM teachers. The program includes 120 hours of classroom teaching and a total of 450 hours of preparation.
Here is a sampling of the many skills students will learn in this program.
1. Foundational principles and philosophies of Pilates as created by its founder, Joseph Pilates, nearly 100 years ago.These include philosophies of movement, resistance, balance and core strength as well as overall health of the body.
2. Methods of Pilates exercise. These methods include everything from basic mat exercises to the advanced Cadillac machine. Each course includes a book with color photographs of all the different exercises so that even after the courses are finished, teachers can remember and view them again and again.
3. How to modify Pilates techniques for students of different fitness and experience levels. Pilates is unique in that it can accommodate all fitness levels from beginner to expert, and teachers will learn how to do this safely and effectively.
4. Anatomy and biometrics of the human body. This knowledge is necessary to understand how the various Pilates exercises affect balance, core strength and fitness levels. Pilates also incorporates breathing techniques and is supportive of overall health and well-being rather than being just an exercise class.
5. How to assess clients as to their fitness levels and use of correct form for various Pilates movements and styles.Correct form is essential to the effectiveness of Pilates for individual fitness and health. Teachers of Pilates must learn how to know whether clients are doing exercises in a way that will benefit them as well as how to correct their form when they are not.
6. Verbal and tactile cueing skills that can help teachers of Pilates to guide their students during the course of a Pilates class. Some words or touches can be used to encourage or help those taking Pilates classes to better understand what to do, and the PSC teacher training program will help potential teachers learn these valuable skills.
7. Indications and contraindications for injuries and special circumstances. When a person's body is injured or otherwise impaired, Pilates is safe for many who are injured or who have special conditions like pregnancy, but it can be harmful if done incorrectly. Students will learn how to adapt or choose exercises that will benefit those with various injuries as well as those with special circumstances such as pregnancy or a permanent handicap that may prevent them exercising in the usual way.
8. How to project an attitude of confidence and composure as a Pilates teacher. For students to follow, the teacher must lead, and this program shows teachers how to function as leaders in their classes so that their students will be inspired to follow and learn from them.
These and many other skills are taught in the PSC Teacher Training Program. Classes are now forming for 2015; apply online here. For more information on these and other programs, go to www.PilatesSportsCenter.com.
Or perhaps you would rather use Digital Downloads.
photo source #1: Flickr, photo source #2: Flickr

Tags: fitness, fitness dvd, pilates, pilates dvds, pilates exercise, pilates teacher training, psc dvd, workout dvd