Staying Fit On Either Side of 50 with Kelly DiMeo!
Friday, May. 15th, 2015
We recently caught up with busy PSC Instructor, Kelly DiMeo and wanted to do a quick Q and A session with her. It's not easy to sit down with Kelly as she's a pretty busy trainer and person in general, but her sunny and smiley disposition always puts everyone here at Pilates Sports Center in a great mood. Here's a little more information on this awesome Pilates Instructor: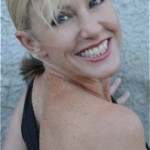 1. How long have you been a Certified Pilates instructor? I've been teaching for five years.
2. Would you say you have a specialty in teaching Pilates, if so, what would it be?  Since I am in my 50's I feel I understand the concerns clients have with getting up in years, because they are my concerns too… alignment of the body, posture, balance, staying flexible. I want my clients to see that even though you are getting older you can still be strong in mind, body and spirit.
3. What could a new client expect from their first private session with you? During a first session I like to get to know a little about my client, find out what their needs are, do they have any injuries or goals. I explain what is Pilates and how is it different from other excerise programs. I introduce the different pieces of equipement we use in Pilates. I teach proper alignment of the body, breath and of course I will take you through a fun workout.
4. Can you share an experience where you were able to take a client from point A to point B in working with them over an extended period of time? Yes, when my client, Kathy started working with me she told me there were certain things  she would NOT do… go down to the floor to do exercises , stand up on the equipment, change her diet. I said that's fine I can still give you a great workout. We have been working together for quite awhile, now Kathy goes down to the floor to do mat work, she will stand on any piece of equipment, she has changed her diet! We have developed a great Pilates relationship and a wonderful friendship, I know she trusts me to keep her safe that she is willing to try any new exercise I give her! It is always such a thrill for me when I see Kathy or any of my clients conquer their fears or doubts about what they can do.
5. How do you stay cutting edge and excited with your Pilates training? I have to say I am always excited about Pilates, there are so many exercises, and different takes on an exercise depending on the Pilates equipment you are using… be it a mat, Reformer, Cadillac, Chair, etc. To stay sharp or on the cutting edge I take classes, read Pilates books, watch Pilates tutorials and videos, I use social media to see what other Pilates teachers are doing around the world, and I love going to workshops.  I am a big believer in my own practices, it helps me to be a better instructor.
For more information about classes and other awesome PSC Trainers, please visit our website.
Tags: fit after fifty, fitness baby boomers, pilates, pilates certification, pilates fitness, pilates training