Andromeda Stevens, D.C.
Andromeda Stevens DC Curriculum Vitae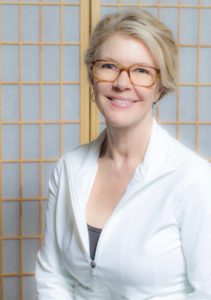 Dr. Andromeda Stevens, D.C. became a doctor because she was inspired by her own scoliosis condition.  Her practice specializes in the proper rehabilitation of the lower back and scoliosis.  She was introduced to Pilates and became a NCPT (Gold) Certified Instructor to offer Pilates to her patients as a way of treating pain and resolving it more effectively. The profound results of her patients led her to co-found Pilates Sports Center in Los Angeles, California along with Kelli Altounian.  Andromeda also co-directs the PSC Pilates Teacher Training Program, and the Burn at the Barre Teacher Training Program which aim to provide the highest standard of excellence in education.
818 970 1222 Cell / Text – Direct Line
Her credentials include:
Graduate – Cleveland Chiropractic College of Los Angeles 1996
Schroth Best Practice® Level I & II ~ Certified by Dr. Hans Weiss (of the Schroth family) and Dr. Marc Moramarco USA: Schroth Best Practice Academy
Certification Course on BSPTS-Concept by Rigo Basic Level Course on Scoliosis and Spinal Disorders
Post graduate certification: Cox Flexion/Distraction Technique for treatment of discs
Integrated Flexibility Training – The Sports Club/LA
BalletCore® Certified
Massage Therapist – Touch Therapy Institute
National Pilates Certification Program (NPCP) "Gold" Certified Teacher™ National Pilates Certification Program (NPCP)
Advances in Pilates – Long Beach Dance Conditioning Graduate 2000
CPR / First Aid Certified
Human Movement Conference Presenter 2019
Body Mind Spirit Presenter 2007 & 2008
Pilates On Tour Presenter 2010 & 2011
PMA Presenter
Inner Idea Presenter 2011
Mad Dogg WSSC Presenter 2013
MindBody Fit Pro Presenter 2013
Master Teacher Trainer for Reebok Sports Club/NY 2007
Co-Creator of Pilates Sports Centers Workshops and DVD's
Co-Creator of Pilates Sports Centers Burn at the Barre ™ Teacher Training Programs (Level I & II)
Co-Creator Pilates Expo Los Angeles
Board of Directors – The Pilates Initiative
Cupping Therapy Trained
CREP stands for the Coalition for the Registration of Exercise Professionals
USREPS stands for the United States Registry of Exercise Professionals
NPCP stands for National Pilates Certification Program (NPCP)